Name:
Cinderkit
~
Cinderpaw
~
Cinderflight
~
Cinderstar
Age:
60 moons
Gender:
She-cat
Position:
Leader
Clan/tribe:
FlyClan
Alive Family:
Mother, Cloudfur, open. Sisters, Hollyflower, Ivymoss, Dovefeather, open. Brothers, Jaywing, Lionclaw, Bramblethorn, Tigerstripe. Mate, Stormpelt, open. Sons, Firepaw, Graypaw, Ravenpaw, Dustpaw. Daughters, Sandpaw, Squirrelpaw, Leafpaw, Bluepaw.
Deceased Family:
Sons, Redkit, Darkkit, killed by greencough. Daughters, Mosskit, Snowkit, killed by greencough. Ex-mate, Oakfur, killed by greencough. Father, Fastwind, killed by a badger.
Description: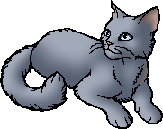 Bluish Gray cat with blue eyes, long legs, and a long tail. Gray spots, scar across her shoulders, long sleek tail, silver fur around her muzzle and tail, torn ear. She has a small limp.
Personality:
Cinderstar is a kind cat, and she listens to what everyone has to say. Cinderstar jokes sometimes, but can easily become serious in 2 seconds. She likes the water, and also likes climbing. This she-cat is better at hunting then fighting, but she is still good at both. Cinderstar is stealthy, and sneaky. She is good at hunting fish, in the small stream in their territory.
Physical Skills:
Out of 10: Fighting, 8. Hunting, 10. Strength, 8. Swimming, 8. Climbing, 7. Speed, 7. Stamina, 10. Memory, 10.
Likes & Dislikes:
Likes: Family, Fish, Her Clan, Hunting. Dislikes: Ignorant Cats, Badgers and Foxes
History:
Kit: Cinderkit was clanborn. Her mother was Cloudfur, and her father Fastwind. She was loyal as a kit, and never broke the warrior code.
Apprentice: When she was apprenticed, she trained hard and fast to learn how to hunt and fight. Cinderpaw was good at fighting, and when she needed to deliver a message near the thunderpath, she went, brave as ever. However, she ran straight across, not realising that a car was coming, she was hit, and broke her leg. Cinderpaw stayed at the medicine den for ages, trying to get it healed, and soon it did, and Lilystar, leader then, made her a warrior.
Warrior: As a warrior, Cinderflight got better at running with a slight limp. When she was on a walk one day, near the OceanClan border, she was spotted by Oakfur, a OceanClan warrior. They got to know each other, and she found out she was expecting his kits.
Queen: As a queen, she never said who the father was. Cinderflight soon had her kits, but realised that she would have to give them to OceanClan, to keep. The she-cat dug a hole at night, and pretended a fox had got in and stole the kits. When they got to OceanClan, Cinderflight found out there was an outbreak of greencough, and Mosskit, Snowkit, Redkit, Darkkit and Oakfur died, leaving Cinderflight to weep for her kits, and keep Bluekit there to stay.
Later Queen: Soon she found a new mate, in FlyClan, Stormpelt. They had 3 litters together, and after that Cinderflight went back to being a warrior.
Warrior: When Cinderflight went back to a warrior, Lilystar asked Cinderflight if she would like to be deputy, since the former deputy, Cloudfluff, died. Cinderflight nodded, and later that day Lilystar did the ceremony.
Deputy: When Cinderflight was deputy, the clan became a lot more organised, and they got a lot more prey. Sadly however, a badger attacked, and 4 elders, 6 warriors, and 2 kits died. One of the elders was Cinderflight's father, Fastwind. Then a fox came, and killed Lilystar, ripping 5 lives from her.
Leader: Cinderflight then went to get her 9 lives, and her name, and that is where she is now. Just after Cinderstar got her names.
Leaders





Posts

: 147


Points

: 8969


Reputation

: 0


Join date

: 2015-07-17


Age

: 17


Location

: Eating Mice in the Dark Forest





Similar topics
---
Permissions in this forum:
You
cannot
reply to topics in this forum